Mitsubishi 10-Year / 100,000-Mile Warranty
Mitsubishi Confidence
There are plenty of factors to consider when buying a new vehicle. But one aspect that some car shoppers tend to overlook is warranty coverage. While Mitsubishi SUVs and cars have the latest automotive safety features, innovative RISE Body Construction, and Super All-Wheel Control (S-AWC), you may not have known that Mitsubishi has one of the best warranty plans offered anywhere by any car manufacturer.
Mitsubishi Warranty vs. Other Car Brands
How good is the Mitsubishi warranty? The automaker's 10-year / 10,000-mile Powertrain Limited coverage is better than popular car companies like Chevrolet, Ford, Honda, and Toyota. How much better? The aforementioned automakers only offer a 5-year / 60,000-mile Powertrain Limited Warranty—nearly half the coverage provided by Mitsubishi.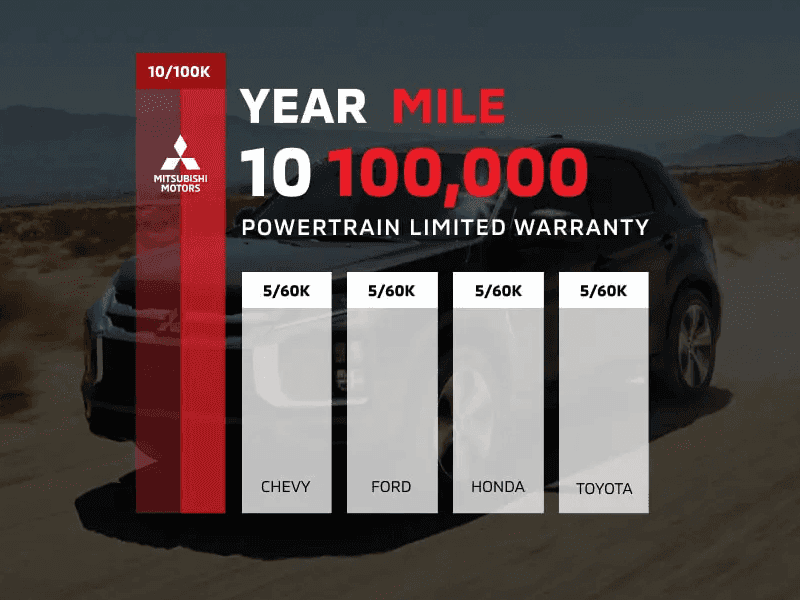 What Is a Manufacturer Warranty?
What is a new car or manufacturer warranty? This coverage is the automaker's guarantee that if problems occur within a certain period of time or specified mileage range, they will make the repairs listed in the warranty coverage.
In Mitsubishi's case, the automaker will cover the repair and/or replacement of select engine, transmission, and transaxle powertrain components originally manufactured and installed by Mitsubishi for 10 years or 10,000 miles. But that's not the end of your coverage! Mitsubishi's extensive warranty coverage also includes a whopping 5 years of complimentary, 24/7 emergency roadside assistance.
Mitsubishi Anti-Corrosion/Perforation Limited Warranty
What is perforation coverage? For 7 years or 100,000 miles, if the exterior sheet metal panels of your vehicle experience any type of rust (corrosion) during normal operation, our service center will take care of you.
The Anti-Corrosion/Perforation Limited Warranty does not apply to corrosion as a result of accidents, abuse, damage, abnormal use, vehicle alterations, or contact with elements such as salt, hail, sand, stones, chemicals, fertilizers, or acids.
Mitsubishi Restraint System Coverage
What is Restraint System coverage? In addition to the warranties listed above, Mitsubishi will repair/replace airbags and seat belts for up to 5 years or 60,000 miles, along with 12-months / 12,000 miles for adjustments—if a manufacturing defect was the cause.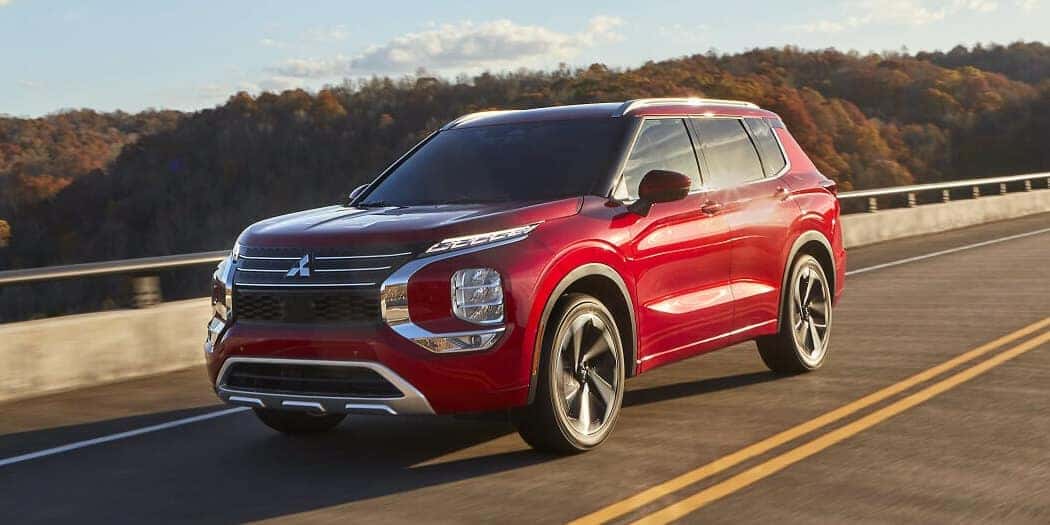 Mitsubishi Warranty Phone Number
How do I contact Mitsubishi Motors? If you have any questions regarding the 10-Year / 10,000-Mile Powertrain Limited Warranty or any other coverages, please don't hesitate to call Vern Eide Mitsubishi at 605-307-5212 or 1-888-MITSU-2022.